Haleakala National Park Has Sunrise, Stargazing, Sunset
&

Day Tours
Maui is an hour glass shaped island with two distinct volcanoes. Haleakala Volcano rises 10,000 ft above sea level and has a spectacular crater at the summit. Sunrises here are world class and one of the most popular of all Maui activities. The west Maui mountains are also the remnants of an extinct volcano who's peaks house the second wettest spot in the world! All of that water has carved deep valleys into the mountain including the ancient and sacred Iao Valley. Explore one or both of these volcanoes with certified eco tourism guides and learn about the unique geology and cultural significants of these sacred volcanoes!
Helicopter Around The Volcanoes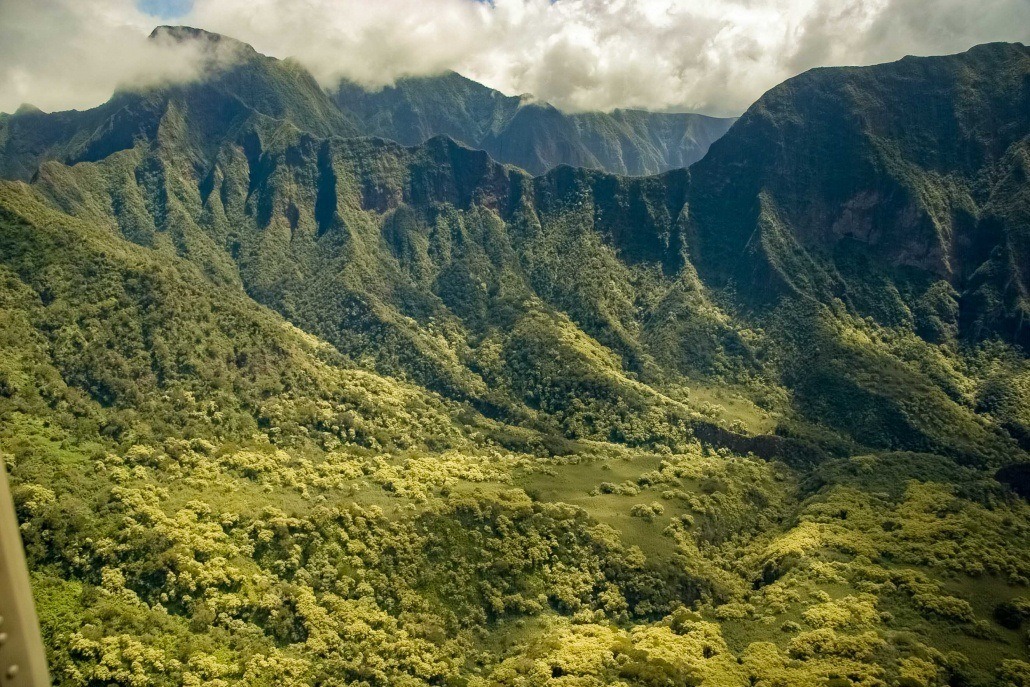 Much of Maui's deep valleys and volcanic slopes can only be seen from the air. Experience the thrill of seeing lush valleys, towering waterfalls, colorful volcanic peaks and miles of beaches and bays from these state of the art aircraft! Bring your camera with the widest lens possible as these views are expansive as well as breathtakingly beautiful. Videos of your flight are also available when you return. It's the most complete way to see this incredible island!
Hiking Into The Haleakala Volcano
Ascend from the 10,000 summit of Haleakala into the barren rust colored cinder landscape with a certified guide. These hikes are just a few miles long but are full of spectacular vistas and plant life found nowhere else on earth! It a unique way to experience the interior of this stunning volcanic valley in one of Hawaii's premier National Parks!
Frequently Asked Questions
Do you recommend taking medication for motion sickness?
If you are prone to motion sickness then taking anti-motion sickness medication is a good idea. However, our flights are very smooth and turns are slow and gentle. Most people do not experience motion sickness or need any anti-motion sickness medication.
What is the best time of the year to visit Maui?
Any time of the year is perfect for visiting Maui. Temperates average between 75 - 85 F. Summer, between April and November, is warmer and drier while winter, between December and Mark, is a bit cooler. It is generally drier on the west side and wetter on the east side.
Are inter-island airfares included in the price of the tour?
Yes, the inter-island airfares are included in the price of the tour. All ticket purchases are final, therefore you must pay for any scheduling changes.
What should I wear to see the Haleakala sunset or sunrise?
We recommend long pants, closed-toe shoes, thick socks, and a light coat or jacket, and gloves will help keep you warm as temperatures in the summit area commonly range between 32°F and 65°F
Can the zipline tour be done as a family?
Yes, doing the zipline tour as a family is a fantastic way to experience this thrilling adventure. You can zipline side-by-side and even race other members of your family. Children must be at least 8 years old to ride the zipline.
How fast do ziplines go?
Zippers can reach speeds at over 45 mph on Hawaii's only pendulum line. This thrilling adventure is full of fun, excitement, and spectacular views.
Will we get to see the sunrise on the bike tour?
Approximately 80% of our Maui bike tours will be able to view the sunrise atop Haleakala; however, your mountain crew cannot control the weather.
On-Island Full-Service Concierge
Every tour purchased with us comes with access to our team of travel experts who make your vacation experience better.
Great Guides With Local Knowledge
Have an amazing experience with our small group tours in comfortable vehicles driven by certified, professional guides.
Stress-Free Vacation Planning
We handle all travel aspects so you can have an incredible vacation to the worldʻs best volcanoes. Go with confidence.
Wide Selection Of Volcano Tours
We have the best selection of Volcano Tours here in Hawaii. Book with us to choose an itinerary that matches your passion.