Witness the dynamic formation of Hawaii at Volcanoes National Park, home to the active Mauna Loa and Kīlauea.
Pele, the Hawaiian goddess of volcanoes and fire, sprang the Hawaiian Islands up from a weak spot in the oceanic plate millions of years ago. This incredible island chain is recognized as a marvel of nature, continuously expanding as Peleʻs volcanoes continue to erupt today.
Hawaii Volcanoes National Park is home to two of the Big Islandʻs five volcanoes, including massive Mauna Loa and the ever-active Kīlauea volcano. The diversity of natural environments encompassed within the park draws researchers and visitors alike to learn how the islands of Hawaii were created and to gaze upon these dramatic volcanic landscapes.
Hawaii Volcanoes National Park Tours
Within the boundaries of the park, there are miles and miles of hiking trails and scenic drives that traverse scalded landscapes, deserts, rainforests, volcanic craters, and along the sea cliffs where flowing lava finally found an outlet into the sea. Volcano Tours operates many choices of tours within the park that are sure to fulfill all of your groupʻs desires. Let us free you from the hassle of driving, coordinating what to do, and let us be your personal concierge and guide! Tailor the itinerary of your tour to get the ultimate experience. Learn about the culture, history, and diverse natural environments of the park from our knowledgeable guides.
Kilauea and Mauna Loa Volcanoes
Hosting two of the worldʻs most active volcanoes, Hawaii Volcanoes National Park extends 333,259 acres from the summit of Mauna Loa down to where the Kīlauea volcano flows into the sea.
A visit to the park is one of the best ways to gain an intimate appreciation for the sheer power that volcanoes can produce – a testament to the primal forces of creation and destruction. The park was designated a World Heritage Site in 1987 for its importance in Hawaiian cultural history and geological narrative of the islands.
In fact, the incredible Mauna Loa volcano is considered to be the largest volcano on Earth in terms of mass and volume (about 19,000 cubic miles), and has been erupting for the last 700,000 years. Not to be overshadowed, Kīlauea reached international headlines in 2018 for its massive rivers of lava that destroyed entire neighborhoods on route to the sea.
Massive plumes of ash were rocketed into the air until one day, the craterʻs summit suddenly collapsed 2,000 feet and activity subsided for the first time in 35 years. The environment of the Big Island is ever-changing, and the accessibility of Hawaii Volcanoes National Park is always subject to the whim of Pele, the Hawaiian goddess of fire and volcanoes.
Make your first stop at the Kīlauea Visitor Center (open daily, 9:00 am to 5:00 pm) for a fantastic introduction to one of Americaʻs best national parks. Here you'll be able to pick up a park map, find out which sites are open, and get a report on current volcanic activity in the park. Speak with one of the rangers in the visitorʻs center to arrange a guided tour or get suggestions on the best hikes for your groups capabilities and desires. There is also a 25-minute film that serves as a great introduction to the diverse environments, flora and fauna, and exciting volcanic history of the park. Opening hours are subject to change and can be found on the park website.
Nahuku – 500-Year Old Lava Tube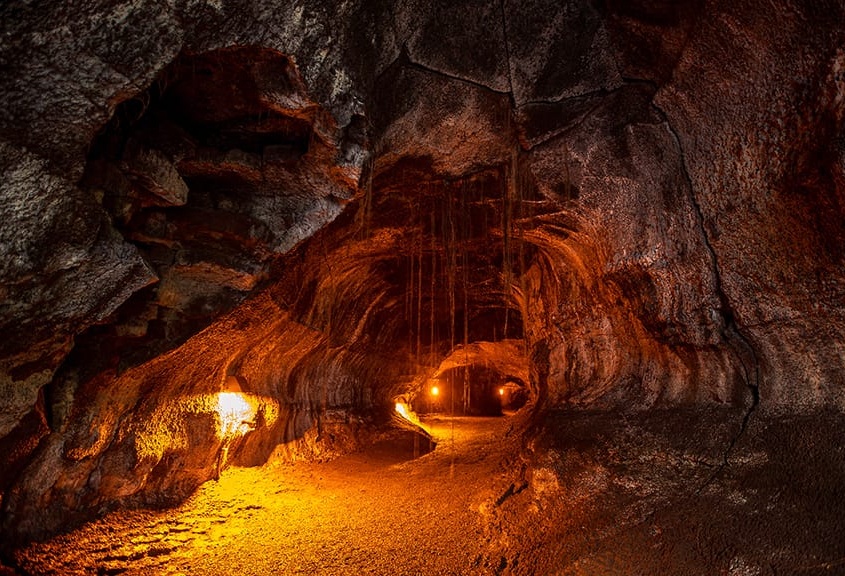 Until the creation of the National Park in 1916, this lave tube for 400 years was known as Nahuku. It contained incredible formations that once hung from the ceiling. These "lava drippings" were harvested over the years by souvenir collectors after Lorrin Thurston "rediscovered" and publicized the location as part of his campaign to create a national park around his newly purchased Volcano House, a hotel built along the crater of Kilauea, situated nearby.
This lava tube, almost 600 feet in length and at points more than 20 feet tall and is lit from 10 am to 8 pm so you can walk through the entire length without issue. Itʻs accessible at the end of a short trail from the parking lot. Itʻs a great spot for families. Although caves look lifeless, there is a fragile ecosystem with lots of living organisms in the roots, walls, and in rock piles. Please watch what you touch while in the cave.
Drive the stunning Chain of Craters Road past many scenic overlooks and volcanic craters to the ocean, where fresh lava has covered the road and overflowed into the sea. This 18.8-mile drive has continued to grow since its inception as lava continues to flow from Kīlauea and increase the size of the park. The road begins 3.3 miles south of the Kīlauea Visitor Center, just off of Crater Rim Drive.
There are many stops along this drive to get out and marvel at the incredible diversity within this park. Walk over the desolate lava fields of Mau Loa o Mauna Ulu that resemble the surface of Mars. Make a stop or even enjoy a picnic lunch at the Kealakomo Overlook with its huge vista over the eastern lava flow and the Pacific Ocean. Descend down to sea level to hike along the boardwalk trail to the Puʻu Loa Petroglyphs where over 23,000 images are etched into the rock by ancient Hawaiians. Along this rugged coastline, torrential waves crash along the volcanic sea cliffs and send ocean spray dozens of feet high into the air. These sea cliffs are notoriously unstable, however, so it is not advised to venture too close to the edge!
Nowhere else can you find such a diverse spread of other-worldly environments. Stop in the Kīlauea Visitor Center when you arrive to discover which hikes are open and appropriate for your group. There are also daily ranger-led hikes. Here are a few of our favorite day hikes in the park: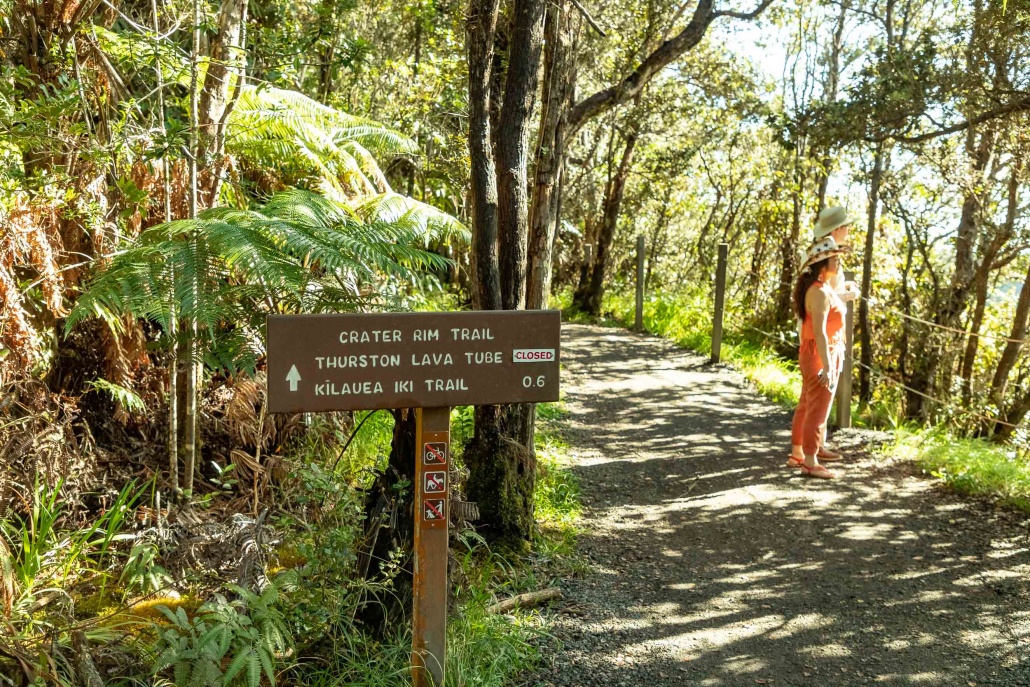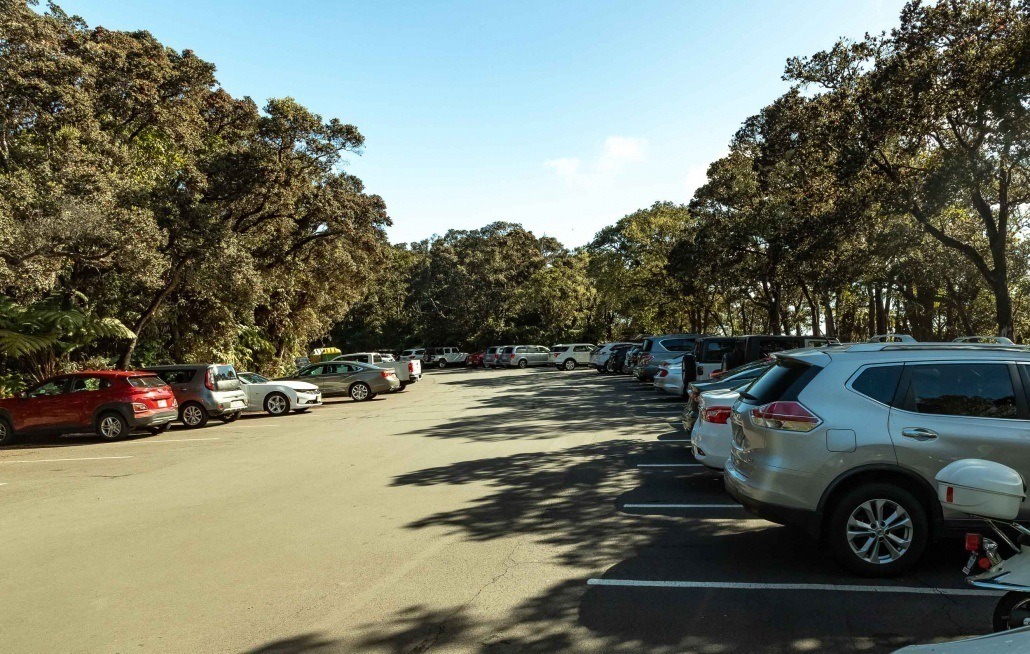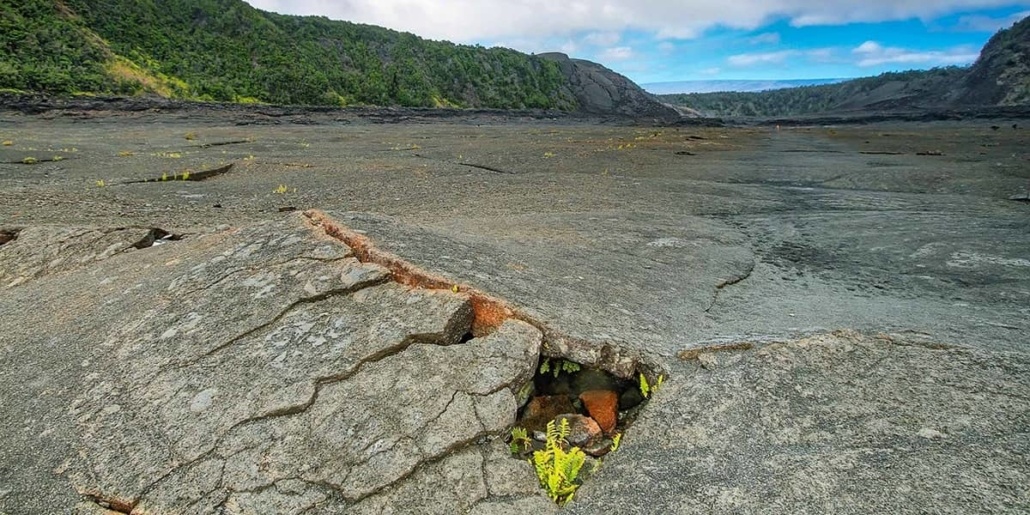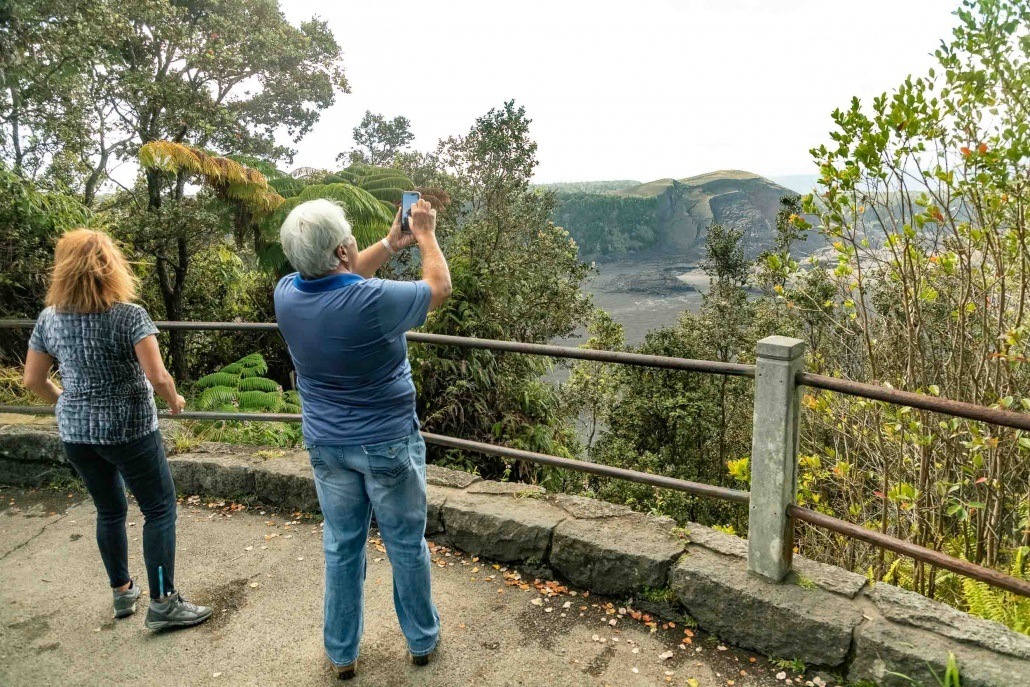 Descend through the rainforest to walk upon the solidified Kīlauea Iki Crater lava lake. Peer into the massive steam vent that created this lake in 1959.
Difficulty: Moderate; 400ft descent/ascent is steep and rocky
Distance: 4 miles (2-3 hrs)
Trailhead: Kīlauea Iki parking lot on Crater Rim Drive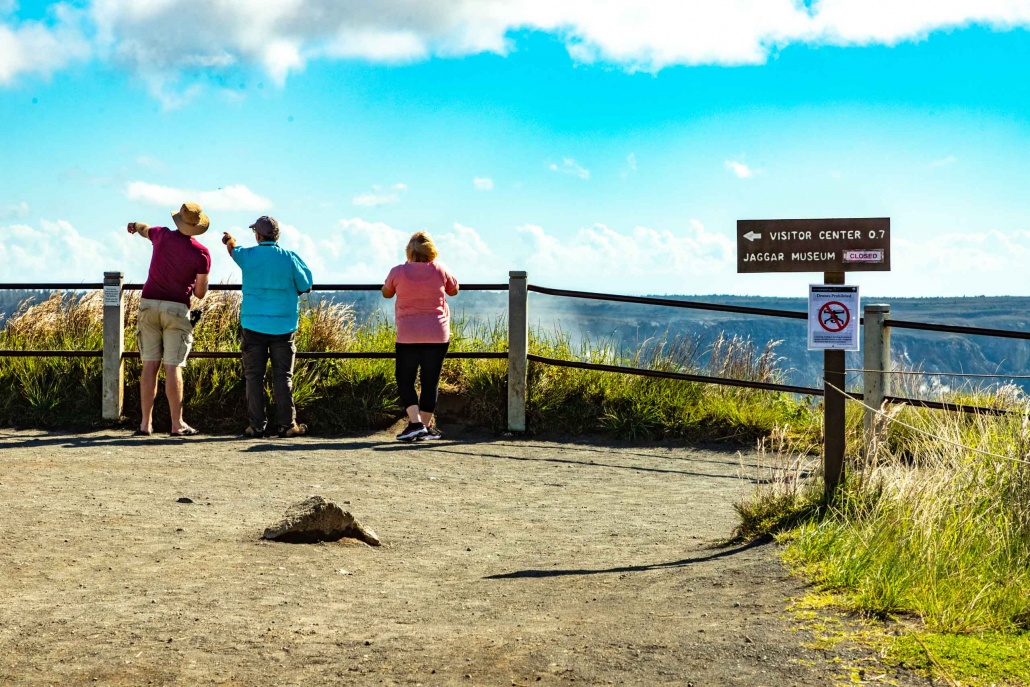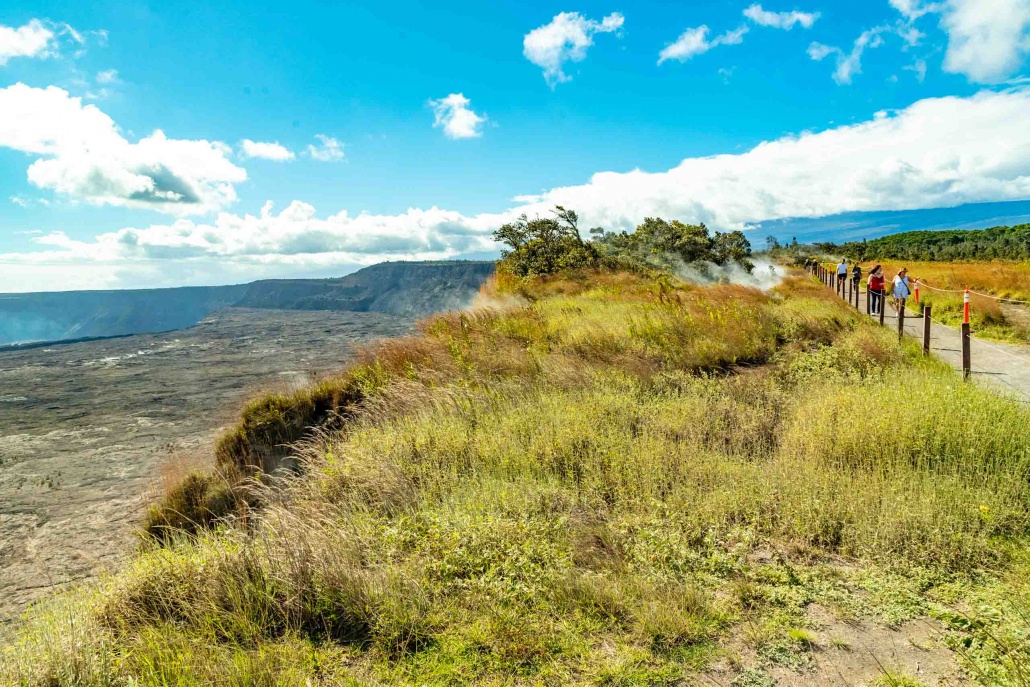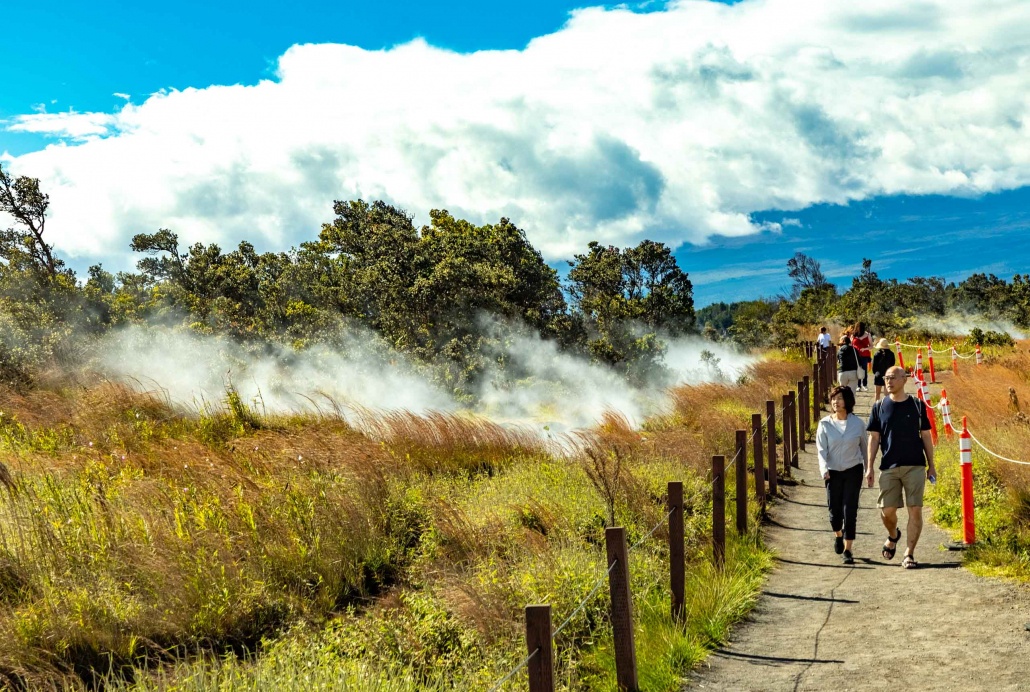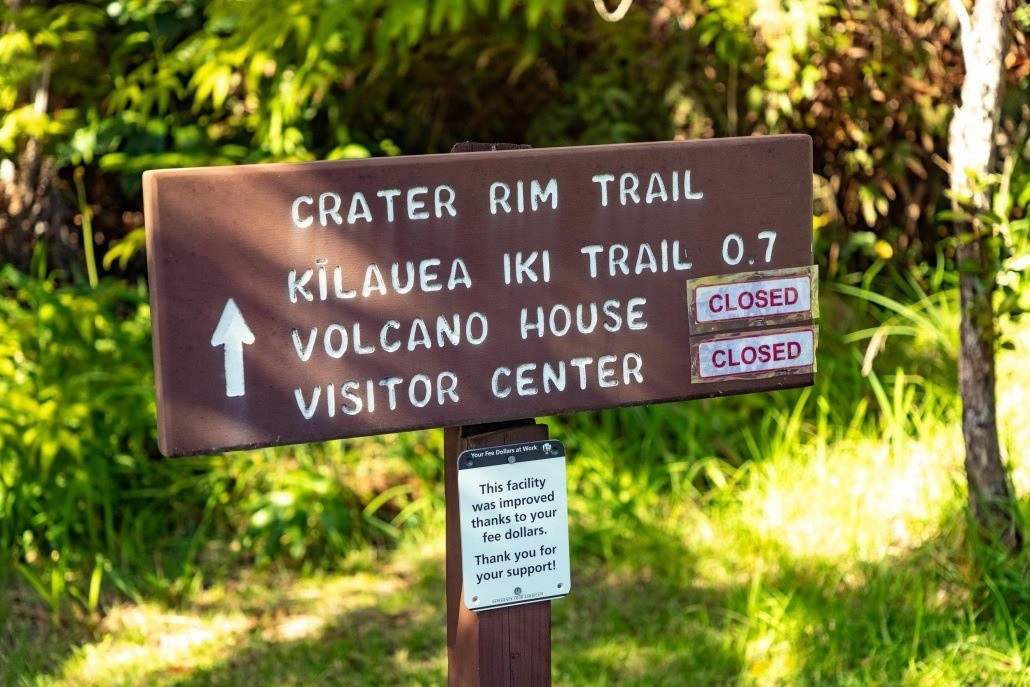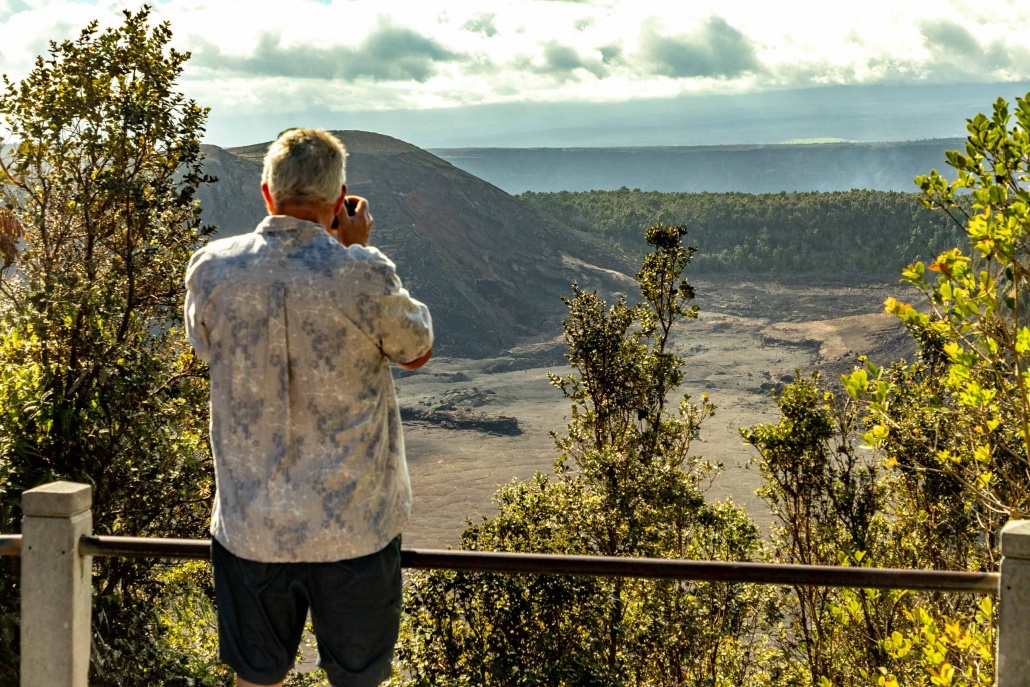 Circle around the caldera of Kīlaueaʻs summit to view torrents of volcanic steam and gas. This caldera is said to be the home of Pele, the Hawaiian goddess of fire and volcanoes. Certain sections of the trail are currently closed.
Difficulty: Easy; 4,000ft trailhead elevation
Distance: Varies
Trailhead: many access points along Crater Rim Drive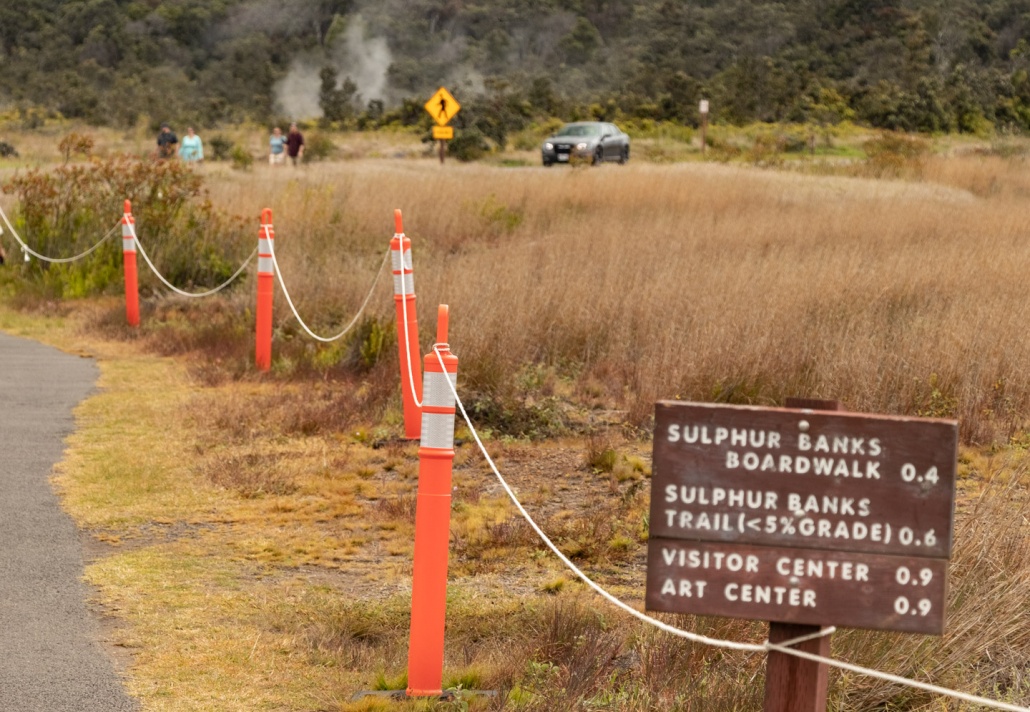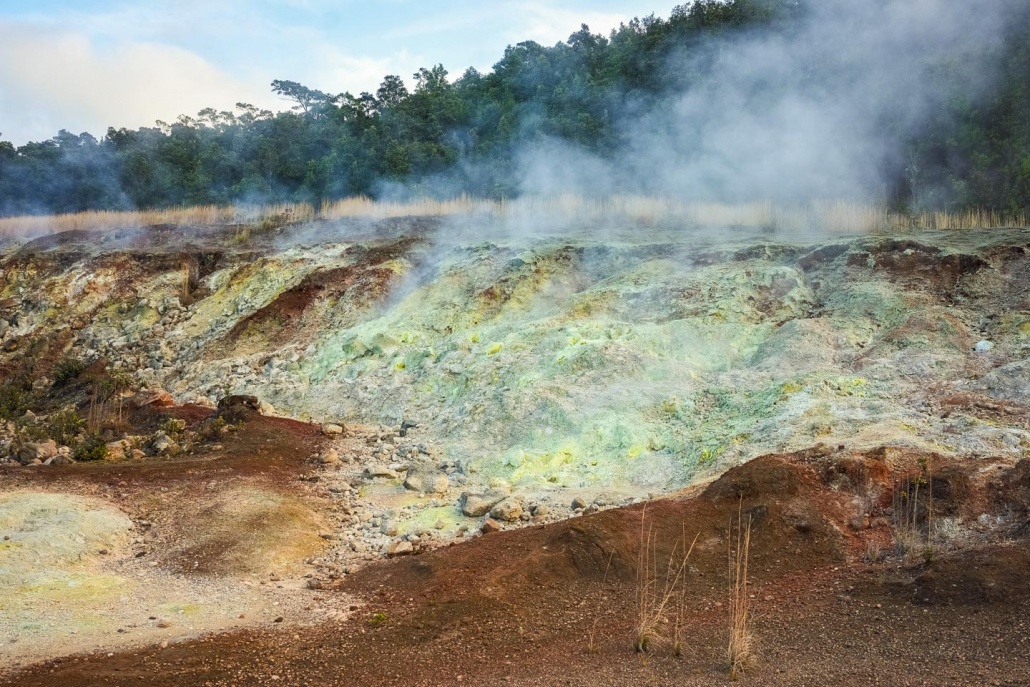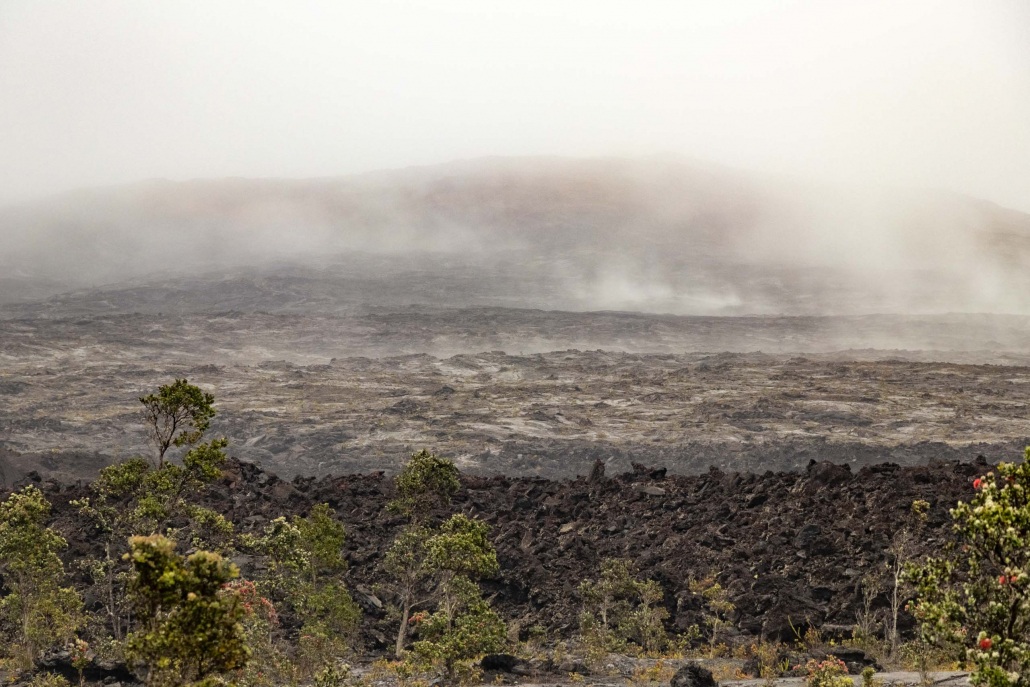 Haʻakulamanu (Sulphur Banks) Trail
Explore this unique volcanic thermal area where volcanic gasses and steam flow out of the ground. Sulfuric mineral deposits abound, famous for their exquisite colors and the distinct smell of rotten eggs.
Difficulty: Easy
Distance: 1.2 mile round trip
Trailhead: Just beyond the Volcano Art Center Gallery
Located 45 minutes southwest of Hilo, Hawaii Volcanoes National Park can be reached from Hawaii Belt Road. From Kona, you should allow about 2.5-3 hours of driving time each way. The main entrance to the park stays open 24-hours a day, 365 days a year. The Kīlauea Visitor Center is open daily from 9:00 am to 5:00 pm and is located on Crater Rim Drive. Youʻll find the turn off between the 28 and 29 mile markers off Highway 11 (Hawaii Belt Road). The Chain of Craters Road begins another 3.3 miles south of the visitor center and continues south to the coast. Consider staying near or within the park to take advantage of the parkʻs diversity as there are plenty of activities to occupy a full day of exploration, or even multiple days.
FAQs About Hawaii Volcano National Park
What activities can I enjoy during my visit to Hawaii Volcanoes National Park?

There are limitless sights to explore during your visit here! From breathtaking lava fields and native rainforests to distinctive geological formations such as sea arches - there's something for everyone! And don't forget about your 45-minute helicopter ride over Kilauea Caldera and an evening hike to see the volcanoes glow as close as possible.

How much time do I have for exploring Hawaii Volcanoes National Park?

You will have two days dedicated to discovering this unique landscape so you can experience it all in ultimate comfort with a private guide.

Does Mauna Loa Have Lava Flow?

Yes. On Sunday, November 27, 2022, Mauna Loa erupted for the first time since 1984. That's 38 years. To follow volcano updates, please see the

Mauna Loa Eruption

page.

Will there be many photo opportunities?

Yes, there are many photo opportunities including waterfalls, religious, cultural and biological points of interest (flora and fauna).

What should I bring with me?

In addition to extra layers of clothing, some of our other recommended items are a mask, sunglasses, and sunscreen. You may also bring a backpack with you that will be stored in the vehicle. This can easily accommodate any items you might need and can also store additional clothing layers or other purchases you make on the road.