MAUI'S MOST FAMOUS LANDMARKS
Discover Iao Valley State Park: lush greenery, the towering Iao Needle, trails, and fresh fruit in Maui.
Brace yourself for the captivating lush green landscape of Iao Valley State Park, which will make you feel like you've stepped foot inside Jurassic Park. Located in Wailuku and in the center of the West Maui Mountains – Iao Valley is also home to Maui's most famous landmark, the 2250-foot-tall Iao Needle. This tranquil 4,000 acre, 10-mile long park is where you can experience the real beauty of Maui, complete with walking trails, scenic views, hiking, botanical gardens, swimming and sampling delicious fruit like guava and mountain apples fresh from the trees. A visit to Iao Valley / West Maui Mountains is not to be missed. It's the perfect way to spend an adventurous half day with the family, exploring one of Maui's beautiful historical gems.
Signature Iao Valley Voyages
Spend a magical day with us exploring Maui's cultural sites and historical towns on our Maui Volcanoes Day Tour, where you will see Haleakala National Park, Iao Valley, forest & ranches, and historical towns like Wailuku, Kula and Makawao.
You can also navigate the skies and see the best of Maui by taking the Haleakala Helicopter Tour which includes a spectacular aerial view of the West Maui Mountains and see both of Maui's volcanoes, view tropical rainforests and hover over cascading waterfalls.
The Iao Needle Lookout Trail is a 0.6 mile trail with a total elevation of just 200 feet. It is an easy hike for people of all ages. It is one of the most popular hikes on Maui due to its short length. Start at the parking lot and follow the trail over a few bridges and up the hill for about a quarter mile. Once you're at the top, you will come to the Iao Needle observation area. This is the end of the hike. There is no shortage of things to do at Iao Valley. You can swim in Iao stream, have a picnic, go hiking, take photos and enjoy sightseeing.
Cultural History of Iao Valley
The Iao Valley is a sacred place and was used as a burial site for Hawaiian family members for centuries. Ancient Hawaiian's believed that their bones contained their spiritual life force energy. Desecrating or stealing bones could give power, control, and even cause harm to living descendants.
Iao Valley is most famously remembered as the location of the Battle of Kepaniwai in 1790. In an effort to unite the Hawaiian Islands, Kamehameha landed his war fleet on the shores of North Maui while Maui's Chief, Kahekili, was away on the island of Oahu. Kahekili's son, Kalanikupule, entered Iao Valley with other Maui chiefs and army members, planning to use Iao Needle as a protective hideout from oncoming forces. He wasn't aware, however, that Kamehameha had brought Western weapons along with him, including a cannon, which killed many Maui warriors during the battle. The streams of Iao Valley were said to have been blocked by bodies after the battle finished, the reason behind the name Kepaniwai, meaning "the damming of the waters." While none of Maui's major chiefs were killed, the damage was done. Chiefess Kalola escaped with her life, accepting Kamehameha's protection in exchange for the promise of her daughter as his future wife. Kamehameha, after putting down a revolt on the Big Island, returned to Maui in 1894 and prepared to attack Oahu. A year later he defeated Kahekili's son at the Battle of Nuuanu and solidified his control of the island chain.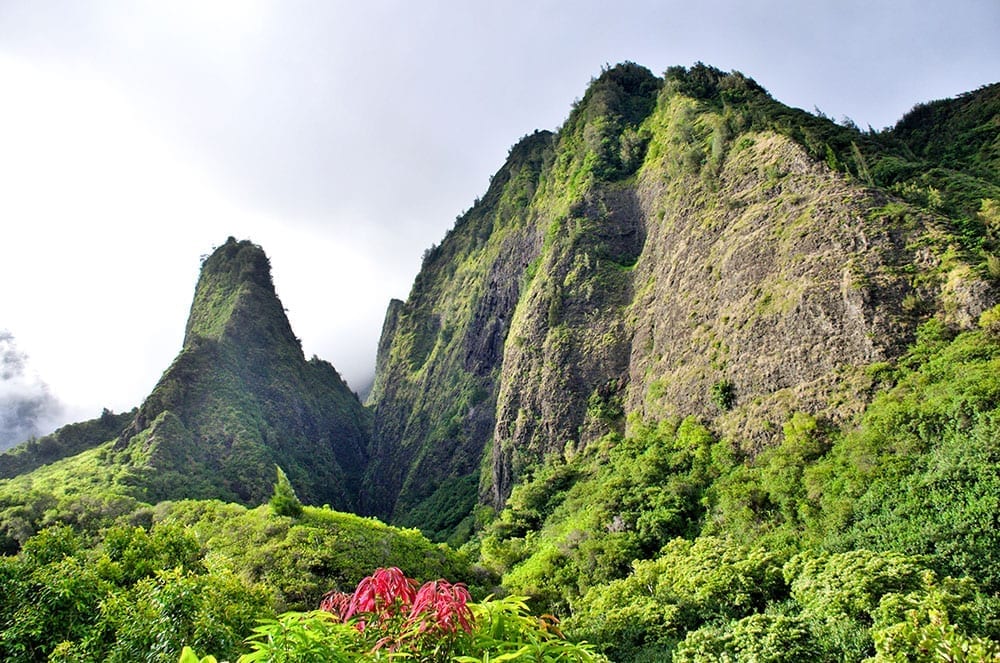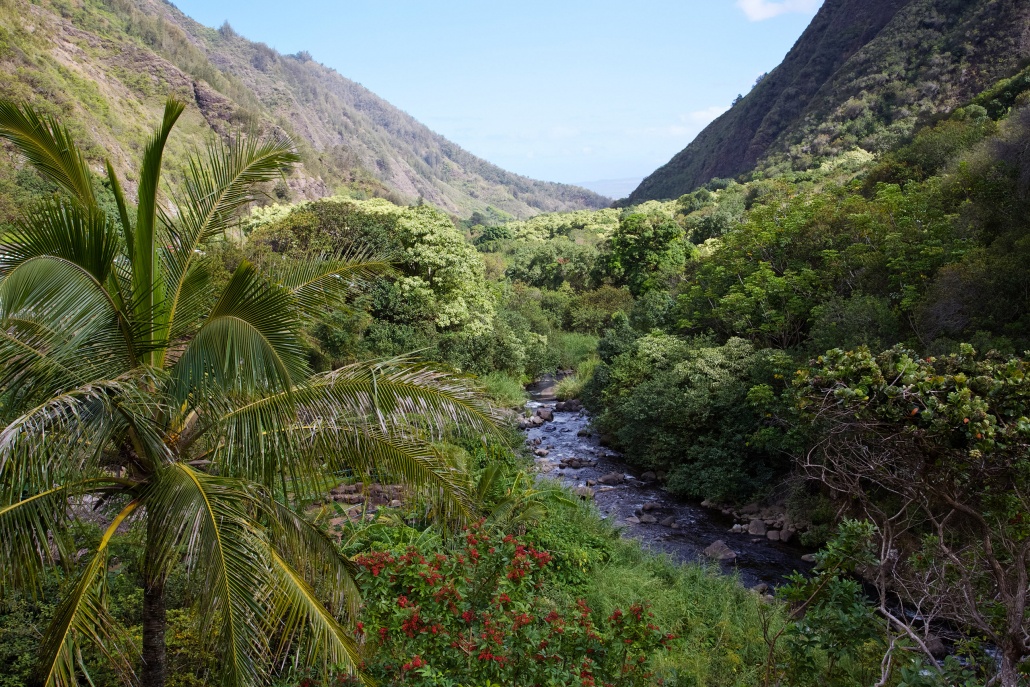 Within Iao Valley State Park is one of the most popular landmarks – the Iao Needle, which towers over 1200 feet above the valley below. The paved walking trail provides a scenic viewpoint of Iao Needle, crosses a footbridge, and winds through the Ethnobotanical Loop, the park's beautiful botanical garden. It is filled with many traditional plant species including the ruins of a Hawaiian village and traditional ponds growing taro along the edge of the Iao stream. Morning is the best time to see views of the Iao Needle before the clouds engulf the peaks. Like all nature, your view also depends on the weather.
Iao Valley is the second wettest place in Hawaii, with the Hawaiian island of Kauai being the wettest. The valley receives an average of over an inch of rain per day. Much of this water flows into Iao steam, passing through the town of Wailuku.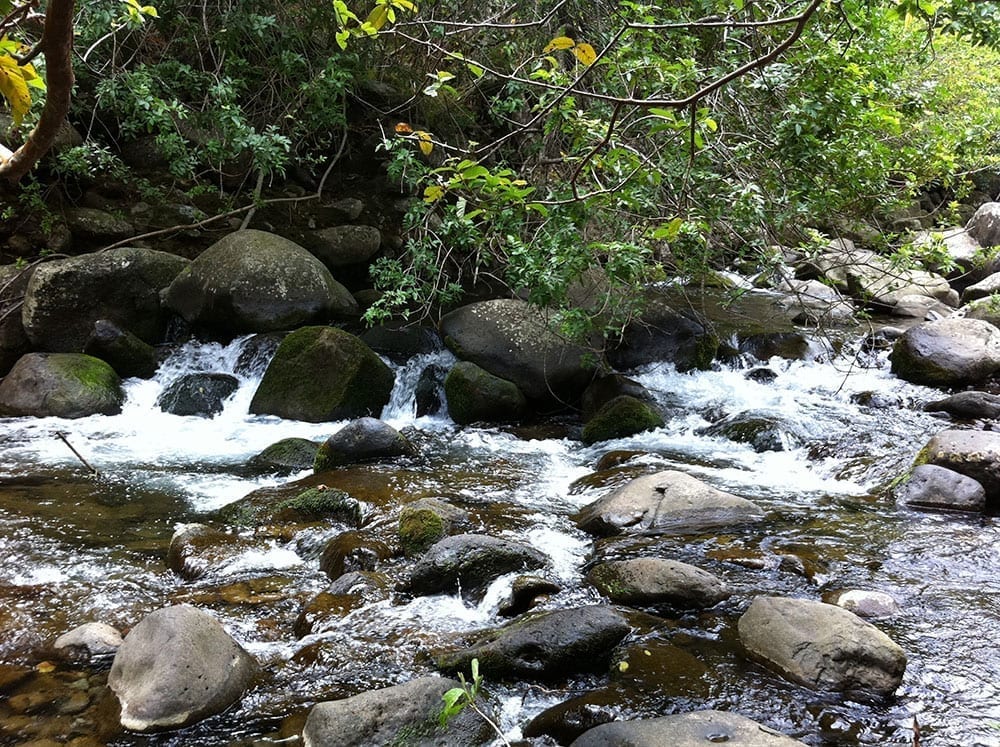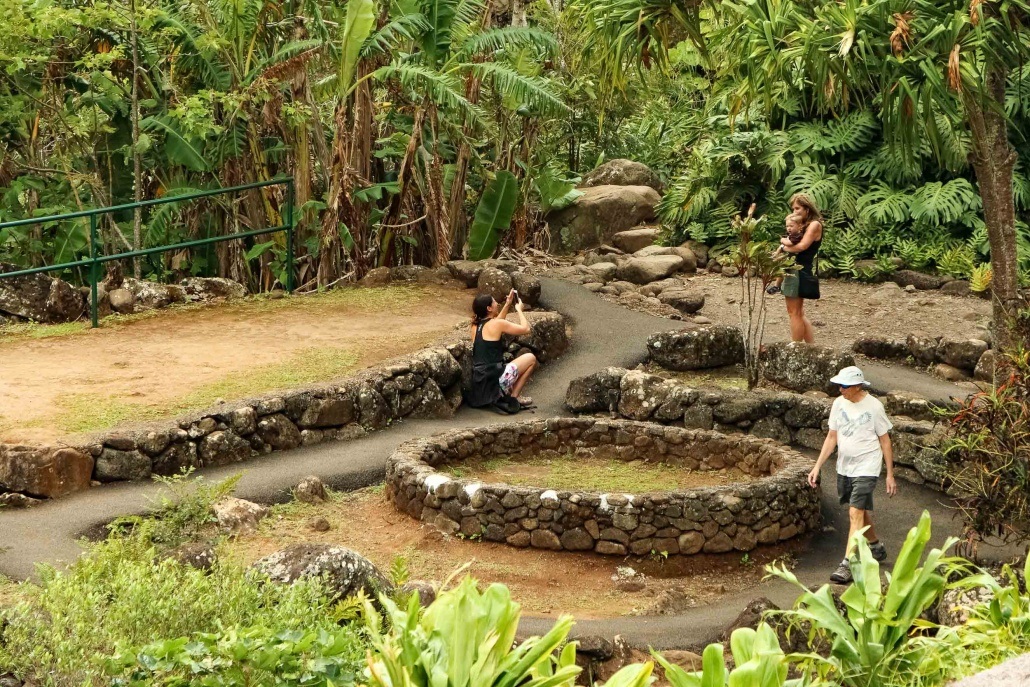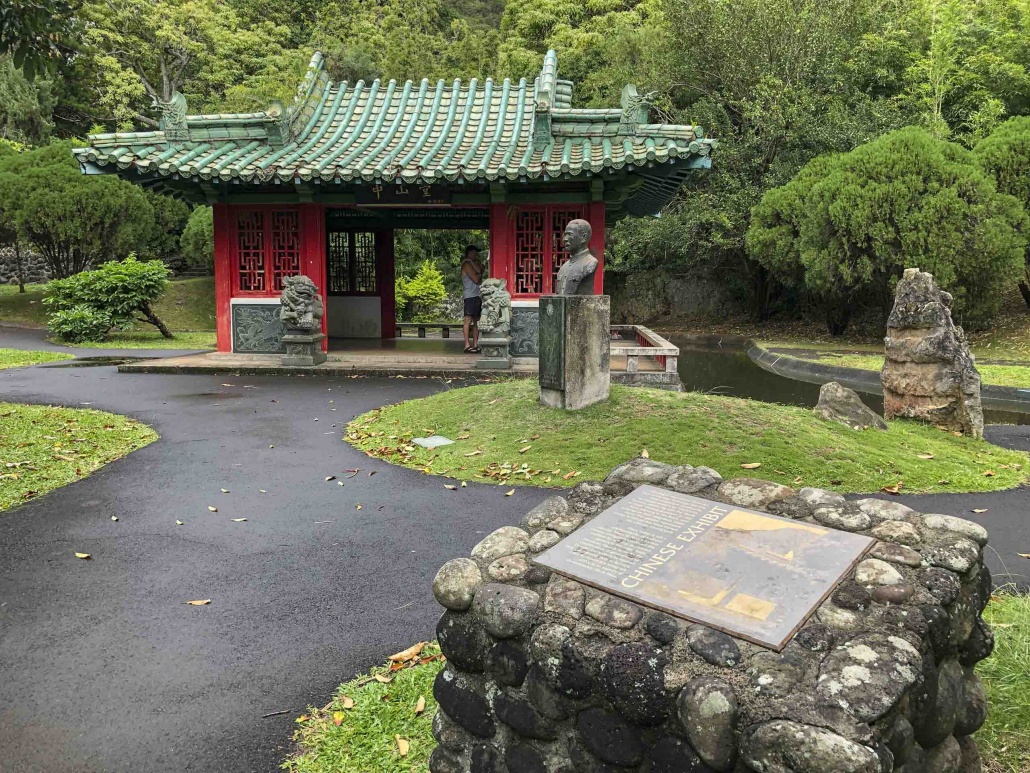 One of the most famous legends associated with Haleakalā is the story of the demigod Maui, who is said to have lassoed the sun from its summit to slow its descent, allowing for longer days. This story is deeply rooted in the cultural understanding of the celestial relationship with the Earth. It's a popular tale that continues to captivate the imagination of both residents and visitors alike.
From Kahului take Hana Highway (Highway 36) west toward Wailuku. Make a right on East Kaahumanu Avenue (Highway 32). East Kaahumanu Avenue becomes Kaahumanu Avenue. In Wailuku Kaahumanu Avenue becomes East Main Street. Go straight through the four-way intersection in Wailuku (state offices will be on your left). The road is now called West Main Street. At the Y intersection, bear left onto Iao Valley Road (Highway 320). Follow Iao Valley Road to the parking area.
From Wailea take Pi'ilani Highway (Highway 31) north. Make a left onto North Kihei Road toward Ma'alaea. Make a right onto Honoapiilani Highway (Highway 30) toward Wailuku. At the four-way intersection in Wailuku (the state offices will be on your right), make a left onto West Main Street. Follow West Main Street until you come to a Y intersection. Bear right onto Iao Valley Road (Highway 320). Follow Iao Valley road to the parking area.
The park is open from 7:00 am – 6:00 pm everyday.
Are there facilities in the park?

The park has basic facilities, including restrooms and picnic areas. However, it's advised to bring water and snacks as there are limited services.

Is swimming allowed in the park?

Swimming is possible in some of the natural pools in the park, but it's important to be cautious of the water levels and currents, especially after rainfall.

What should I bring for a day at Iao Valley?

Bring comfortable walking shoes, water, snacks, sunscreen, a hat, and a camera. If you plan to swim, don't forget a swimsuit and a towel.

Is there an entrance fee?

There is a small entrance fee for non-residents. This fee helps with the maintenance and preservation of the park.

How long should I plan to spend in the park?

A visit can range from a couple of hours to half a day, depending on your interest in hiking, swimming, and exploring the gardens.