The lush Hamakua Coast that traverses the northeastern shore of the Big Island is known for its incredible waterfalls and dense tropical rainforests. Just north of Hilo lies 'Akaka Falls State Park, where 422 foot 'Akaka Falls plunges from the mountaintop into a gorge that it has carved out in its path. With not one, but two marvelous waterfalls to experience, the short loop trail that traverses the park leads through a splendid rainforest with bamboo, wild orchids, and other botanical wonders to experience. Visiting 'Akaka Falls is a family-friendly adventure and an experience that you will not soon forget.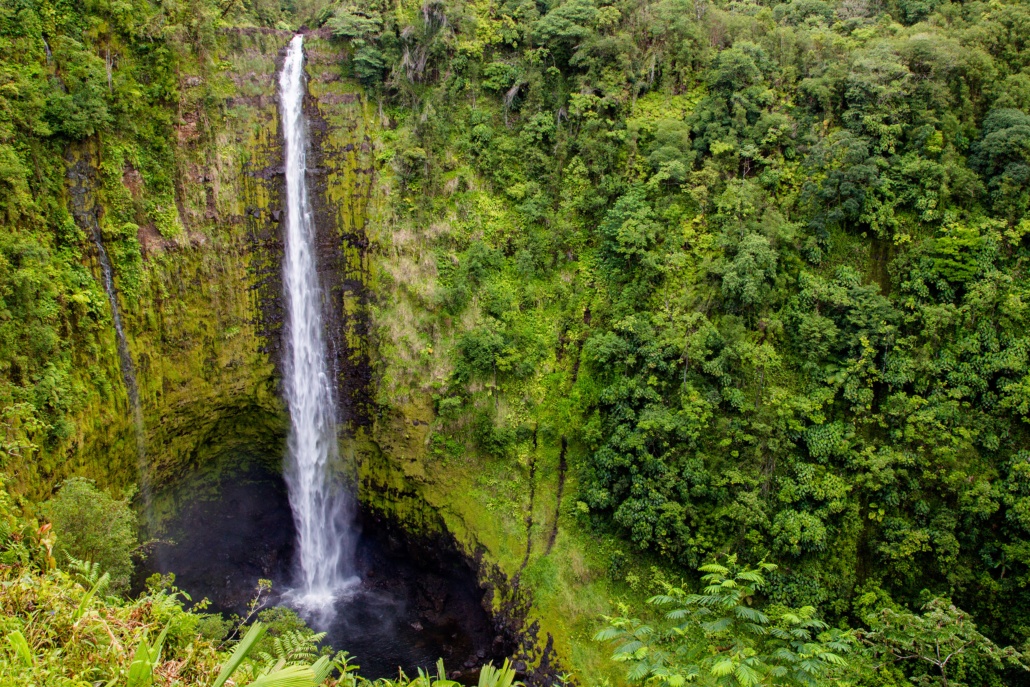 Inside 'Akaka Falls State Park
Within 'Akaka Falls State Park, there are actually two stunning waterfalls you can experience. Free-falling 'Akaka Falls is likely the most popular waterfall on the Big Island, and is known to mystify its audience with a 422-foot plunge straight down into a deep, steam-eroded gorge. You can catch views of the falls at several points as you make your way uphill along the western shoulder of the gorge on a 0.4-mile paved footpath to the falls.
This trail loops through lush tropical rainforest past lesser-known Kahūnā Falls then on to iconic 'Akaka Falls. The cascading waterfall of Kahūnā Falls is harder to spot as the dense vegetation can sometimes block your view. Keep your eyes peeled, after a good rain especially, for these hidden waterfalls that can be seen from an overlook about 800 feet beyond the viewpoint for 'Akaka Falls.
Hiking the 'Akaka Falls Loop Trail
Hike the 0.4-mile uphill footpath that makes a loop through incredible tropical vegetation to reach the panoramic vistas that overlook cascading Kahuna Falls and free-falling 'Akaka Falls. Wild orchids, draping ferns, and bamboo groves are plentiful amidst this ancient forest.
The trailhead is located directly off the parking area. Follow the short paved footpath to first encounter the 100-foot Kahuna Falls, then continue around the bend to peer out over the gorge that holds the incredible 442-foot 'Akaka Falls. This path does require a bit of physical exertion, as it is uphill and there are some steps to climb (not wheelchair accessible). Rest assured, the hike is short, kid-friendly, and takes around 30 minutes to an hour to complete.
If you'd like to make a shortcut straight to 'Akaka Falls, choose the path to the left (south) at the first junction you encounter. It will be only a short walk down this path to the waterfall overlook.
You can find 'Akaka Falls State Park about 11 miles north of Hilo at the end of 'Akaka Falls Road (Highway 220), about 3.6 miles southwest of Honomu.
There is a dedicated parking area, open between 8:30 AM and 6:00 PM. Walk-ins are welcome from sunrise to sunset. The entrance fee is $5 per car and $1 per pedestrian. Hawaiian residents can access the park for free.