Rainbow Falls is an awe-inspiring waterfall that tumbles 80 feet into the Wailuku River that gushes below. Surrounded by lush tropical rainforest, this waterfall is easily reached from downtown Hilo as itʻs just a 5-minute drive away. Known as Waiānuenue in Hawaiian language, the name translates to "rainbow [seen in] water" and is befitting for these falls, as the rising sun commonly ignites a dazzling rainbow in the mist.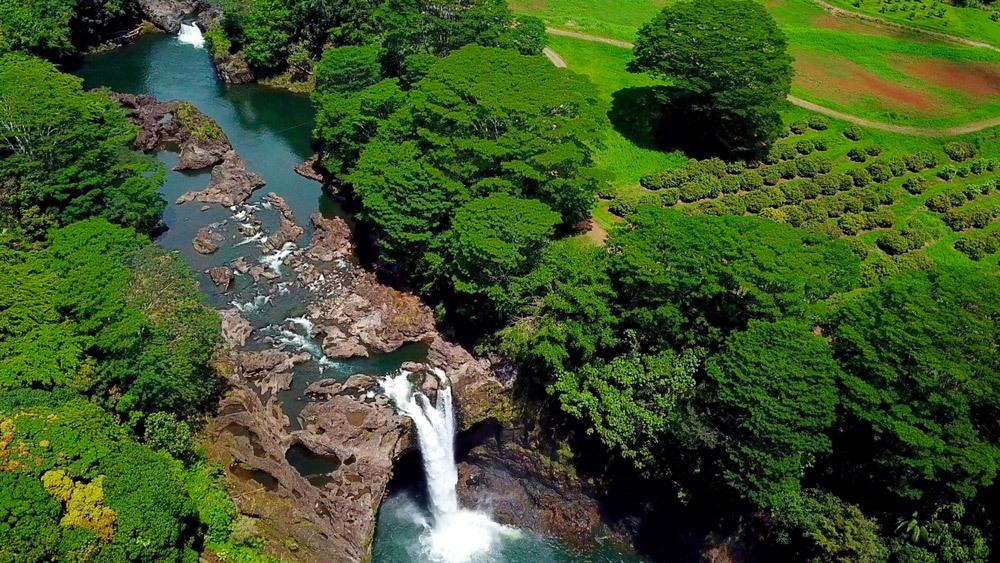 Visit Rainbow Falls to experience the home of Hina, the ancient Hawaiian moon goddess, that is said to live within a lava cave encapsulated behind the falls. This peaceful oasis is a fantastic place to visit in the early morning to view the falls and explore the stunning natural environment that surrounds them.
Wondering why this waterfall is called Rainbow Falls? As you might guess, a rainbow can commonly be seen in the early morning as the sunlight refracts off the cascading water droplets of the waterfall. For the best chance of seeing this natural phenomenon, position yourself east of the waterfall with the rising sun at your back. The rainbow is best viewed when lots of water is flowing down the Wailuku River, or while it's raining, but the rainbow can still be viewed year-round! At 80ft tall, the broad waterfall of Rainbow Falls is smaller than 422ft ʻAkaka Falls further up the Hamakua Coast but is much easier to access. Additionally, you can venture up the side of this waterfall to view it from the top. Continue further upstream to encounter an ancient banyan tree and Pe'epe'e Falls.