The sheer natural beauty of Waipiʻo Valley is unparalleled, a living Garden of Eden hidden deep along the Big Islandʻs northern Hāmākua Coast. Sheltered by cliffs that tower almost 2,000ft tall, the valley is almost five miles deep and a mile wide where it meets the sea. At the back of Waipiʻo Valley, waterfalls cascade from the high cliffs, coming together to form a river that winds through the valley until its outlet is reached on a spectacular black sand beach.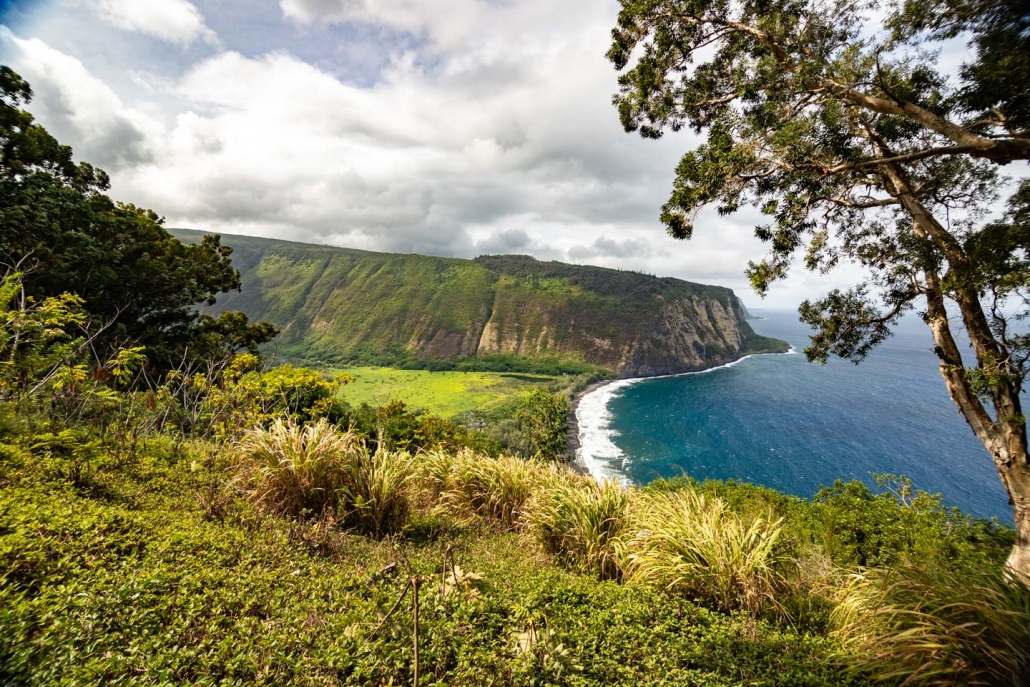 There are many ancient legends centered around this sacred valley, once home to Hawaiian royalty and thousands of native Hawaiians.Today, the valley hosts a handful of permanent residents and wild horses within the lush foliage and expansive taro fields. There are a plethora of ways to experience Waipiʻo Valley, whether it be on foot, as part of a guided adventure tour, or even from the air.
Visitors first become acquainted with majestic Waipiʻo Valley from a lookout just beyond the parking area that stands high on the eastern wall. From this far-reaching viewpoint over the valley and high sea cliffs, there are multiple options to reach the valley floor, including in a 4WD vehicle, on foot, or as part of an ATV tour. As soon as you start to head down the steep road that zigzags down the cliffside, turn inland to take a peek at the secrets that lay within this sacred valley.
The valley floor gives way to expansive taro fields, a few plantation-style homes, and lush vegetation where wild horses run free. Trace the way water travels within the valley from the waterfalls that tumble from the cliffside in the back of the valley into individual streams that converge together to form the rushing river that meets the sea. In fact, the valley received its name, Waipi'o (meaning "curved water"), for the shape that the river makes as it traces the valley floor. An enchanting black sand beach can be found where the river ends, and in the right conditions, you can even go for a quick dip.
Access Waipiʻo Valley by driving north from Hilo along the Hāmākua Coast, about 10 miles past the town of Honokaʻa. Arrive at the Waipiʻo Valley Lookout for panoramic views over the massive, magnificent valley and get more information on the area. From here, the valley floor may be accessed by 4WD-vehicle, on foot, or as part of a tour. You can also choose to pay for a ride from one of the local residents that frequently run tourists into and out of the valley.